Blood and Gore, Drug Reference, Intense Violence, Nudity, Sexual Content, Strong Language, Use of Alcohol
Assassin's Creed Origins - The Hidden Ones
dlc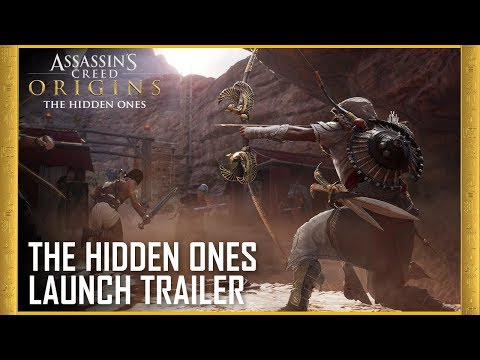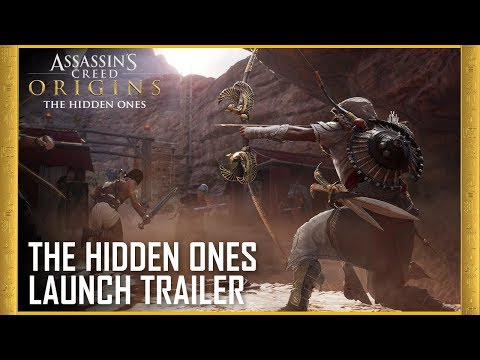 This first expansion brings new content to Assassin's Creed Origins with a mission that takes you deeper into the story of the Brotherhood's formation. Explore the beautiful region of Sinaï and meet new characters that will show y... read more
General information
Release date:

January 23, 2018

Description:

The Brotherhood story continues with the Hidden Ones, included in the Assassin's Creed Origins Season Pass. Years after the birth of the Brotherhood, Bayek is called to the Sinaï Peninsula to investi

gate a clash between a rebel faction and occupying Roman forces. As he seeks to bring peace, Bayek must shape the code that will one day be known as the Assassin's Creed. This first expansion brings new content to Assassin's Creed Origins with a mission that takes you deeper into the story of the Brotherhood's formation. Explore the beautiful region of Sinaï and meet new characters that will show you a whole new perspective of the Brotherhood. Improve Bayek with a higher level cap and new gear Explore a new region - Sinaï and the Red Sea Find new legendary weapons with special attributes Customise your assassin with unique outfits and mounts

Rating :

Blood and Gore, Drug Reference, Intense Violence, Nudity, Sexual Content, Strong Language, Use of Alcohol

Anti-Cheat software:

BattlEye anti-cheat software automatically installed with this game, you will not be able to launch the game if you have uninstalled it.
© 2017 Ubisoft Entertainment. All Rights Reserved. Assassin's Creed, Ubisoft, and the Ubisoft logo are trademarks of Ubisoft Entertainment in the U.S. and/or other countries.
General information